---
COMPETITIVE CHEER
See flyer above for information on 2020-2021 Cheerleading Information Meeting.
Email [email protected] for more information.
2018 FHSAA 1A Medium Division State Champions
Creekside Cheer is PROUD of our Alumni who are currently cheering competitively on the collegiate level for the 2017-2018 season: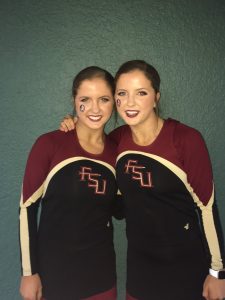 Katie and Emily Xanders – FSU All Girl Competitive Cheer
Sarah Ca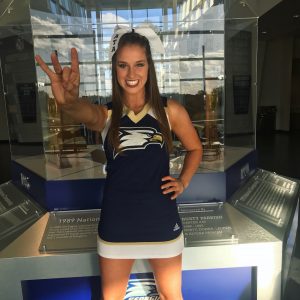 ntu  – FSU Garnet Girls Competitive Cheer
Alyssa Brooks and Kayla Clary – University of Florida All Girl Competitive Cheer
Abbey Prangley – Georgia Southern All Girl
Lizzy Bendinelli – FAU All Girl Competitive Cheer
And Congratulations to 3 former Knights who have earned Staff positions at the  Universal Cheerleaders Association (i.e. they are getting paid to teach cheer camps!)
Katie and Emily Xanders 
Kayla Clary
CONTEST OF CHAMPIONS – Nease High School
JV – 2nd Place!
Varsity – 2nd Place!
WEST NASSAU WARRIOR WARM UP
JV – CHAMPIONS! And BEST JUMPER, Sydney Herbst
Varsity – CHAMPIONS!
WINTER CLASSIC – Infinity All Star Gym
JV – Best CHEER!
Varsity – Best JUMPS!
ALL OUT CHAMPIONSHIP – Veteran's Memorial
JV – 1st Place and BEST CHOREOGRAPHY
CHASE THE STATE – Bartow High School
Varsity – 3rd PLACE!
THE AMERICAN CHAMPIONSHIP – Daytona Beach
JV – The State at Daytona Champions!
UCA CENTRAL FLORIDA REGIONAL
Varsity – 2nd Place and Bid to Nationals!
FHSAA REGIONALS
Varsity – 3rd Place and Bid to State Finals!
FHSAA STATE FINALS
Varsity – 2018 STATE CHAMPS!!!
NATIONAL HIGH SCHOOL CHEERLEADING CHAMPIONSHIP
17th Place in the Nation!