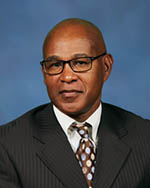 Mr. J. Randy Johnson
Principal
Creekside High School
[email protected]
Mr. Johnson received his B.S. degree from Tuskegee University and his M.Ed. degree in Educational Leadership from Nova Southeastern University. He has been in education for 35 years, teaching 11 years, serving as a school principal for 21 years, and serving as Director for Professional Development & Leadership at the District office for three years.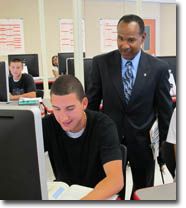 A MESSAGE FROM THE PRINCIPAL
Dear Parents, Students and Friends of Creekside,
I am honored, enthused and humbled to lead such a fine learning organization. Creekside High School is your place, our climate and culture is student centered. We consider parents and families valued partners in each student's educational journey. We'll help you support your student's academic success and their personal growth here at Creekside.
Every school-day is another opportunity for excellence. "Rigor, relevance and relationships" are vital for engaged student learning. In order to compete, our students must be able to think critically. We believe that "yesterday's answers won't solve today's problems." Therefore, we are guiding our students along college and career pathways that require them to "stretch" a little.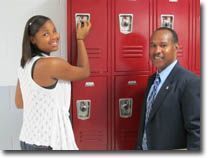 The Gallup Organization states:
"Our greatest contribution is to be sure there is a teacher in every classroom who cares that every student, every day, learns and grows and feels like a real human being".
Let's be a blessing to others,
Sincerely,
J. Randy Johnson
Principal