New for 2023-2024 — Students will now use Clever to access Schoology, Office 365, Online Textbooks, and other Links for Students.
Office Hours:  8:30 a.m. – 4:30 p.m.
Students may enter the school campus at 8:30 a.m.
Seniors can take their formal portraits, which will appear in the yearbook, by scheduling an appointment with Leonard's Studios. Seniors should have their portraits taken by October 6th in order to appear in the yearbook. Parents can purchase and customize senior ads now, through February 14, 2024, by going online to buytheyearbook.com and using the code 715036.
Reserve your yearbook today! Yearbooks are $75 and can be purchased online at buytheyearbook.com using the code 715036 (or search for Creekside High School). Prices go up October 1st. 
Tours are available after school on Wednesdays at 3:00 p.m. with appointment.  E-mail [email protected]
to schedule.
Thank you for volunteering your time and automobile to help transport our students to offsite events or activities.
In order to protect the health and safety of our students, our District requires that anyone (employee or volunteer) transporting students to and from school-related activities must receive prior approval. Before such approval may be granted, you must submit certain required information and agree to abide by certain rules regarding the operation of the vehicle.
Please click the link below to proceed.
Cafeteria Menu and Pricing 2023-24
Complete Lunch = Best Value
Monday: Chicken Nuggets/Popcorn Chicken or Cheesy chicken quesadilla with green beans; alternate weeks Chicken Biscuit slider or French Toast with tater rounds, assorted fruit; milk or water
Tuesday:  Hot Hot Dog or Macaroni & Cheese with baked beans; alternate weeks Penne Pasta with Meatballs or Garlic French Bread Pizza with green beans; assorted fruit; milk or water
Wednesday: Spicy Chicken Sandwich; alternate weeks including Grilled Cheese Sandwich with Sweet Potato Fries;  assorted fruit; milk or water
Thursday: Cheese Pizza or Mini Corn Dogs, with Broccoli;  assorted fruit, milk or water
Friday: Hamburger/Cheeseburger or Pepperoni Calzone with baked fries; assorted fruit; milk or water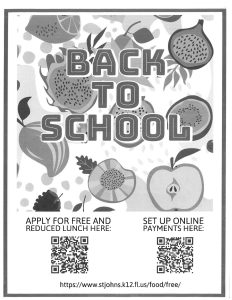 September 25 – 30, 2023
Homecoming Week
Dress-up Days
Monday:  Spirit Rally Kick Off @ 9am in courtyard.

Tuesday:  Popsicles in the courtyard during lunches
Wednesday:  Club Fair during lunches
Thursday:  Cookies, music, and games in the courtyard during lunches
Friday:  Pep Rally (Homecoming Pep Rally Donations) & Homecoming Football Game vs. Oakleaf (Red Out!)
Saturday:  Homecoming Dance theme: Disco in gym, 7-10pm
Purchase Dance Tickets
Guests must be approved before a ticket can be bought for them. Use the link below for the digital guest form:
https://forms.office.com/r/Z45R4zxKma
Wednesday, October 4, 2023
Class of 2025
Deadline to order Class Rings
Class of 2025 Additional Ring Information
Friday, October 13, 2023
End of 1st Quarter
Monday, October 16, 2023
Teacher Planning Day
Monday, October 23, 2023
Picture Make-up Day
Friday, November 10, 2023
Veterans Day Holiday
November 22-24, 2023
Thanksgiving Break
Wednesday, December 13, 2023
High School Academy Showcase
Renaissance Convention Center
World Golf Village
3:30 p.m. – 7:00 p.m.
Wednesday, December 13, 2023
Class of 2025 Ring Ceremony
8:00 a.m.
CHS Auditorium
Thursday, December 21,2023
End of 2nd Quarter/1st Semester
December 22, 2023 – January 3, 2024
Winter Break
Thursday, January 4, 2024
Teacher Planning Day
Friday, January 5, 2024
Teacher In-Service Day
Monday, January 8, 2024
1st Day of 2nd Semester
Saturday, April 13, 2024
Junior/Senior Prom
7:00 p.m.
World Golf Village Renaissance Hotel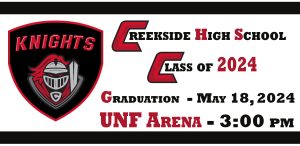 (Click button above to see/search all upcoming athletic events.)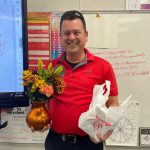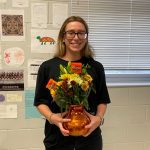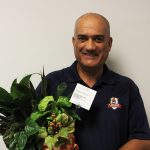 Nick Lambros
2023-2024 Creekside High School Teacher of the Year
Lisa Coppola
2023-2024 Creekside High School Rookie Teacher of the Year
Ali Fayazi
2022-2023 School Related
Employee of the Year
School Board Respresentative
Beverly Slough, District 1 representative to the St. Johns County School Board, writes periodic updates for parents and others concerning school district matters. If you would like to receive the updates, please email her so that she can add you to the distribution.
If you are a person with a disability who needs assistance and planning to attend a school meeting or program, please contact Creekside High School with your specific need at 904.547.7300.
"Support for Families Available Through Discretionary Projects" Online Discussion on October 3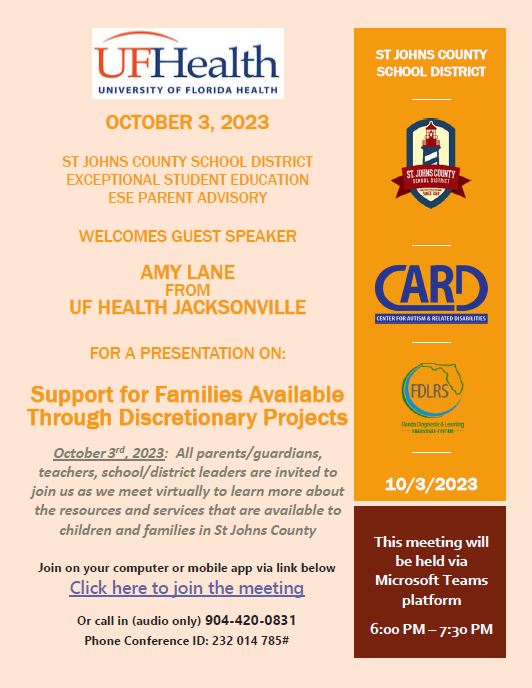 Please join the St. Johns County School District's Exceptional Student Education (ESE) Parent Advisory Committee on October 3 from 6 p.m. to 7:30 p.m. for a virtual discussion titled "Support for Families Available Through Discretionary Projects." The discussion will be held virtually in Microsoft Teams and will be presented by guest speaker Amy Lane from U.F. Health Jacksonville.
Secondary STEM Fair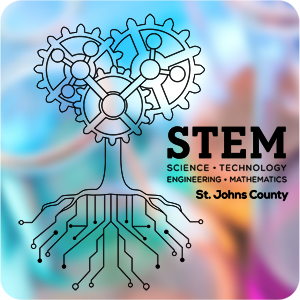 Are you interested in Science and Scientific Research? Consider a Science Fair Project this year! Ask your science teacher about it!
To learn more, please visit the Secondary STEM Fair web page.
This is just a reminder that anyone (parent, guardian, friend, neighbor, aunt, uncle) must have school access to attend an event at Creekside High School, have lunch with a student and/or attend an awards assembly. If you have not already done so, please complete the School Access Form. The process for approval may take up to 4 weeks, so please fill out the application sooner than later for any guests that would like to have school access. Once the application is approved, school access will be valid for three years.
If you have been approved in any St. Johns County School in the past three years you do not need to apply again, simply send an email to [email protected] to have your status checked and possibly renewed.
FortifyFL is a website and app developed at the direction of the Florida Legislature. Any student, educator, parent or member of the public can report school safety concerns directly to law enforcement and school administrators anonymously and easily through the FortifyFL app or getfortifyfl.com.
The mission of Creekside High School is to inspire good character and a passion for lifelong learning in all students, creating educated and caring contributors to the world.