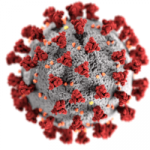 Visit the St. Johns County School District COVID-19 Dashboard for current quarantine guidelines, health and safety documents.
Please contact the District COVID Support Team at (904) 547-8230 for all COVID-related issues.
Office Hours:
8:30 a.m. – 4:30 p.m.
Students may enter the school campus at 8:30 a.m.
Yearbook and Senior Ad Sales
Tours are available after school on Wednesdays at 3:00 p.m. with appointment.  E-mail [email protected]
to schedule.
Monday:  Popcorn Chicken, assorted fruits and vegetables, milk or water
Tuesday:  Chicken Sandwich, assorted fruits and vegetables, milk or water
Wednesday:  Hamburger, assorted fruits and vegetables, milk or water
Thursday:  Mac & Cheese, assorted fruits and vegetables, milk or water
Friday:  Pizza, assorted fruits and vegetables, milk or water
Thursday, January 27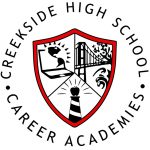 Creekside Academy Night
6:00 p.m. – 7:30 p.m.
CHS Auditorium Entrance
Academy Night Agenda
Creekside Academies Video
Creekside Academies Website
Monday, February 7, 2022
Teacher In-service Day
Monday, February 14, 2022
Family Knight
Monday, February 21, 2022
Presidents' Day Holiday
Tuesday, March 1, 2022
ACT Day
Thursday, March 10, 2022
End of 3rd Quarter
Friday, Mach 11, 2022
Teacher Planning Day
March 14-18, 2022
Spring Break
April 15 and 18, 2022
Holidays
Monday, May 30, 2022
Memorial Day Holiday
Friday, May 13, 2022
Prom
Renaissance Hotel
World Golf Village
Saturday May 28, 2022
Class of 2022 Graduation
4:00 p.m.
UNF Arena

Thursday, June 2, 2022
End of 4th Quarter
(Click button above to see/search all upcoming athletic events.)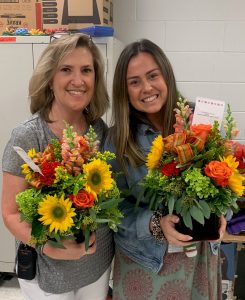 Michelle Joyner
2021-2022 Creekside High School Teacher of the Year
Chloe Lipovetsky
2021-2022 Creekside High School Rookie Teacher of the Year
Kyndra Ward
2021-2022 School Related
Employee of the Year
Easy to Pay Online!
Three levels to choose from…
Basic $20
Bronze $35
Silver $50
Gold $100
Knight in Shining Armor $300
The membership info is located
on the CHS website,
under the Parents tab and PTSO.
Memberships are paid
ONLINE this year!
Thank You!
School Board Respresentative
Beverly Slough, District 1 representative to the St. Johns County School Board, writes periodic updates for parents and others concerning school district matters. If you would like to receive the updates, please email her so that she can add you to the distribution.
If you are a person with a disability who needs assistance and planning to attend a school meeting or program, please contact Creekside High School with your specific need at 904.547.7300.
2021-2022 Instructional Materials Adoption for Mathematics UPDATE
St. Johns County School District curriculum department representatives and adoption committee members have completed the review process for the Instructional Materials Adoption for Math. On January 25, 2022, the School Board will conduct a public hearing to receive comment from the community regarding the final list of recommendations for instructional resources for this adoption. The public is invited to attend this hearing. The hearing will be held at 9:00 a.m. in the auditorium of the District Administrative Building located at 40 Orange Street in St. Augustine.
We encourage parent and community participation in our adoption process. Please visit our Instructional Materials Adoption web page to:
View the resources that are being considered for adoption.
Find out how to serve on a school committee and formally review the resources as a part of the school review team.
Learn more about the policies and procedures for textbook adoption.
B.E.S.T. Standards Presentation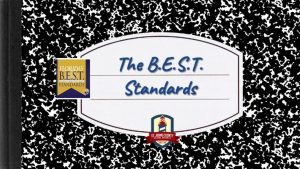 The purpose of the video is to provide parents and community members with information about the new B.E.S.T. Standards for English Language Arts and math. The video also explains the timeline for the implementation of the new standards.
View the B.E.S.T. Standards Presentation
Apply Now for a High School Career Academy / Program of Choice
Families of Current SJCSD 8th and 9th Graders,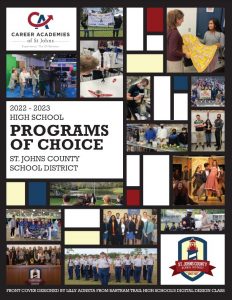 Students in 8th and 9th grade may apply for enrollment in a Program of Choice for any of the St. Johns County School District high schools.
Programs of Choice include high school Career Academies, IB and AICE acceleration programs, JROTC, Early College Program, and the St. Johns County Center for the Arts (SJCCA) at St. Augustine High School.
To learn more, please visit the Career & Technical Education website.
Ready to Apply?
All current 8th and 9th graders may apply by completing the general application in
Home Access Center (HAC)
. Eligible students who are currently attending a private school, home school, or a virtual school may also
apply to a Program of Choice
. The deadline to apply is
5pm on February 10, 2022.
Project SEARCH Informational Session - February 1st at 6 p.m.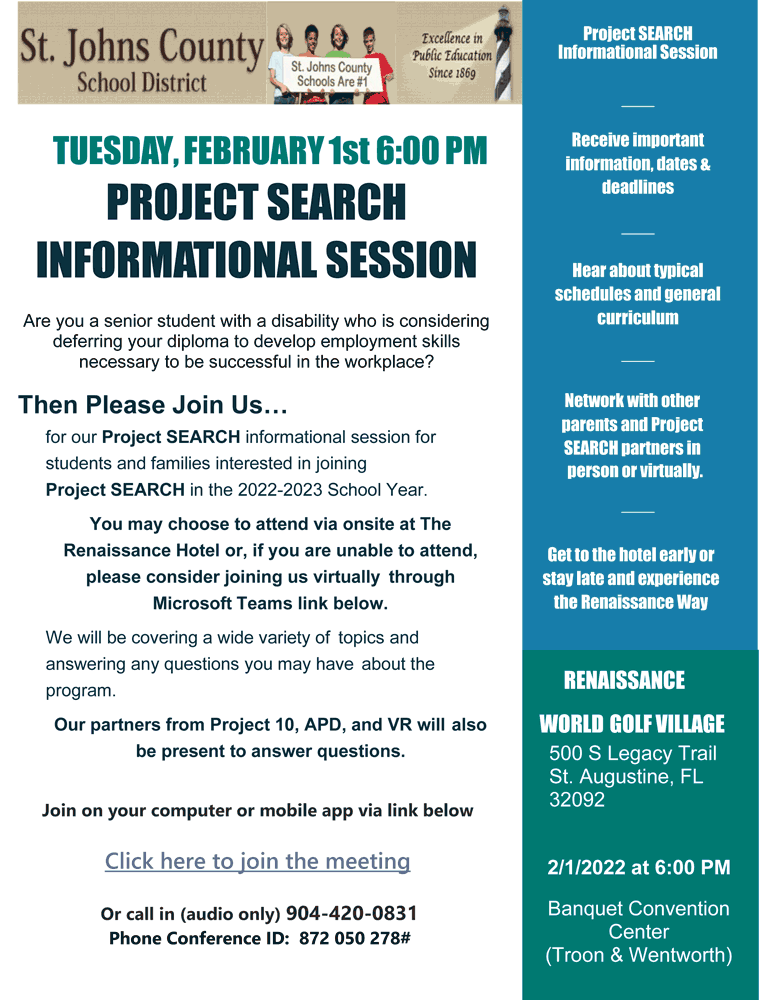 Are you a senior student with a disability who is considering deferring your diploma to develop employment skills necessary to be successful in the workplace?
Then please join us for our Project SEARCH informational session for students and families interested in joining Project SEARCH in the 2022-2023 School Year.
You may choose to attend via onsite at The Renaissance Hotel or, if you are unable to attend, please consider joining us virtually through Microsoft Teams link below.
We will be covering a wide variety of topics and answering any questions you may have about the program.
Our partners from Project 10, APD, and VR will also be present to answer questions.
Join the meeting on your computer or mobile app
Or call in (audio only) 904-420-0831
Phone Conference ID: 872 050 278#
This is just a reminder that anyone (parent, guardian, friend, neighbor, aunt, uncle) must have school access to attend an event at Creekside High School, have lunch with a student and/or attend an awards assembly. If you have not already done so, please complete the School Access Form. The process for approval may take up to 4 weeks, so please fill out the application sooner than later for any guests that would like to have school access. Once the application is approved, school access will be valid for three years.
If you have been approved in any St. Johns County School in the past three years you do not need to apply again, simply send an email to [email protected] to have your status checked and possibly renewed.
FortifyFL is a website and app developed at the direction of the Florida Legislature. Any student, educator, parent or member of the public can report school safety concerns directly to law enforcement and school administrators anonymously and easily through the FortifyFL app or getfortifyfl.com.
The mission of Creekside High School is to inspire good character and a passion for lifelong learning in all students, creating educated and caring contributors to the world.