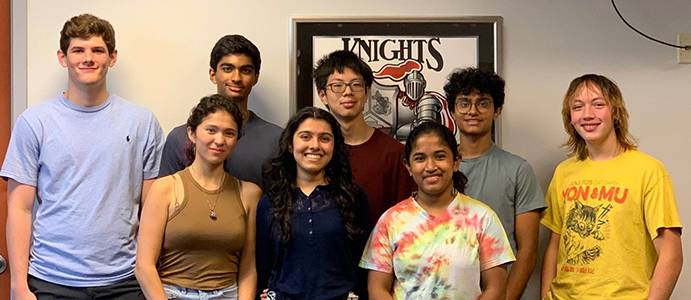 National Merit Semifinalists Announced
Congratulations to the following Creekside High School students who are Semifinalist in the 2023 National Merit Scholarship Competition: Evan Johnson Maddox Jordan Sabrina LaVopa Ravi Nitta Hari-Krishna Patel Erin Philip Krisha Shah Wuzhou Xiong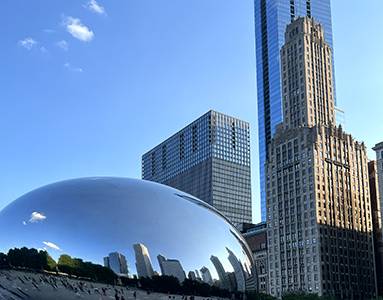 FBLA Students Place in National Competition
After qualifying at the FBLA District and State competitions, Alexander Sheridan, Teja Nitta, and Rohit Bongu placed in their respective events at the FBLA National Leadership Conference this summer held in Chicago, IL.  Alexander placed 10th in the Introduction to Parliamentary Procedures event which included a timed, 100-question objective test.  Teja and Rohit placed 7th …
4A CHS Track State Champions
CONGRATULATIONS to the following track athletes from this past Saturday's 4A State Champs Track meet at UF: 4A State Champions: 4 x 800 meter relay: Tanner Simonds, Hudson Finocchio, McCall Williams, and Jesse Benavides. #1 in Florida, #9 fastest time in the nation, and all-time school record with 7:46.86 200 meter: Christian Miller. #2 in …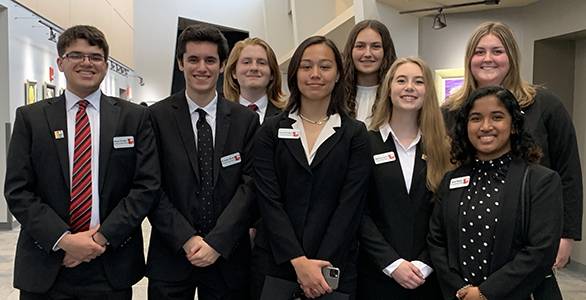 Creekside ACE Teams Sweep Competition
ACE (Architecture, Construction, and Engineering) is a national after school mentorship program that our engineering students participate in throughout the year. Students work in teams and are given a project, where they must come up with a solution, complete designs, and presentation. Several engineering professionals work weekly with our students to help guide them through …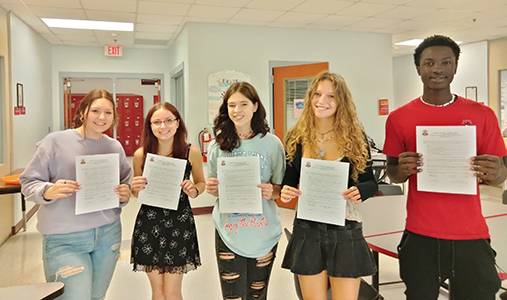 CHS Teaching Academy Seniors Sign SJCSD MOU
Congratulations to the first graduating seniors in the Future Teachers Academy at Creekside High School! These five students are signing their MOUs with SJCSD and we are looking forward to calling them our colleagues in the future. Erica Kromer placed 2nd in the state at the FIU Virtual Teaching Conference for her performance in the Job …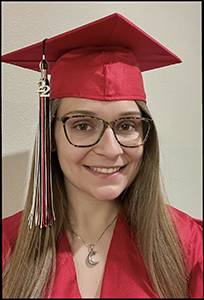 American Sign Language Honor Society Scholarship
Karsyn Mosley received Creekside's American Sign Language Honor Society's scholarship.  Karsyn has decided to dedicate her life in becoming a speech and language therapist specifically within the Deaf Community.  Her goal is also to "build up society's perceptions" of deaf individuals and also help with communication barriers.  She has shown strong dedication through her four …
American Sign Language Honor Society Scholarship Read More »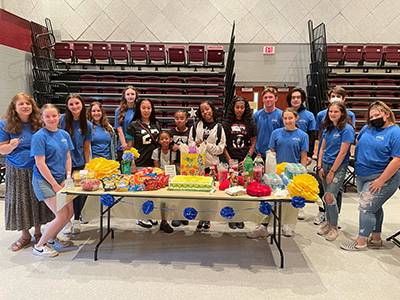 Dreams Come True Celebration
For several years, Creekside High School's Dreams Come True Club has been raising money and waiting for COVID restrictions to lift so that they could grant a wish and celebrate a child battling a life-threatening illness. Their dream finally came true when Ja'Mya and her family dropped in for a party, complete with yellow balloons …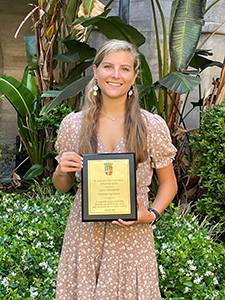 St. Augustine City Commission Citizenship Award
Leah Crenshaw won the St. Augustine City Commission Citizenship award  to represent Creekside High School in St. Johns County. The award is for Leadership and service to your school and your community.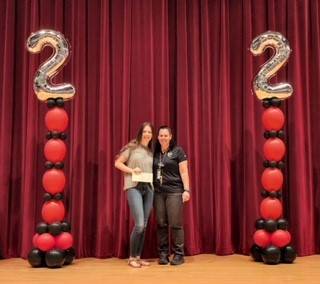 Link Crew Scholarship
The Link Crew $1000 Scholarship was awarded to Katie Redway. She is a natural leader whose character is displayed in everything she does. She understands being a leader means you collaborate, listen, and humble yourself to build others up.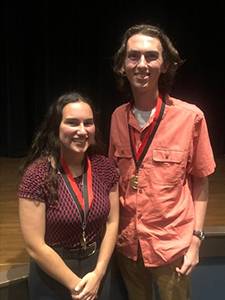 Honor the Graduate Awards
Every year the St. Johns County chapter of the Christian Educators Association International recognize two students from each high school who have lived out their faith during high school.  This recognition is called Honor the Graduate.  Our Creekside Brothers and Sisters in Christ and Fellowship of Christian Athletes clubs have been meeting throughout the year …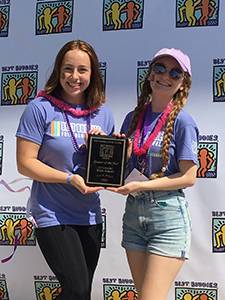 Best Buddies Receives Chapter of the Year Award
Creekside Best Buddies chapter received the Chapter of the Year award for North Florida!  Our chapter alone raised over $16,500!!!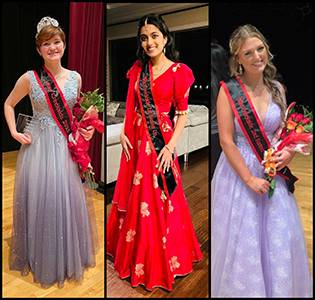 Miss Creekside 2023
The Miss Creekside Pageant was held April 9, and we are so incredibly proud of the talented and dedicated participants. We are also thankful to the Junior gentlemen escorts, guest performers, backstage student volunteers, and faculty volunteers for helping us to make pageant night great.   Please join us in congratulating the award recipients and …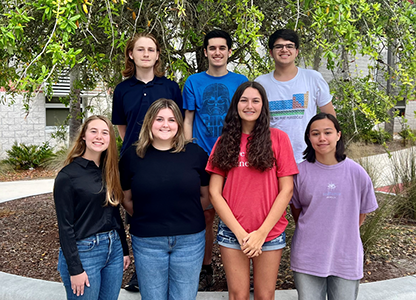 Creekside Engineering Students Advance to Present Their ACE Mentoring Project in Washington DC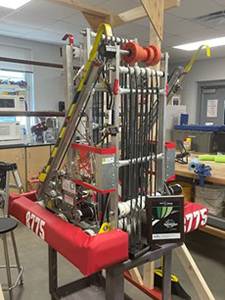 Creekside Robotics Team is Declared Rookie of the Year
From March 10th to 12th, the Creekside Robotics Team 8775 competed in its first ever robotics competition.  The competition was sponsored by FIRST Robotics and was held at UCF. The competition consisted of two main challenges. The first of which was to collect oversized tennis balls on the floor, and to shoot them into a …
Creekside Robotics Team is Declared Rookie of the Year Read More »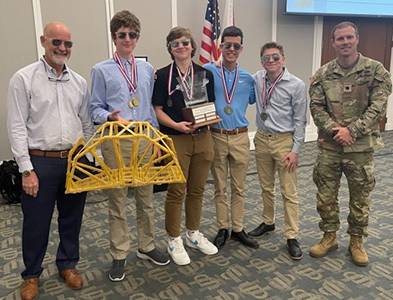 Creekside Engineering Students Win SAME Career Day Competition
National Engineers Week always begins during the week of George Washington's birthday, as not only was he our first president he is considered to be the nation's first engineer.  The 2022 Engineers week began February 21st, with the annual Society of American Military Engineers (SAME) Career Day occurring at the end of the week on …
Creekside Engineering Students Win SAME Career Day Competition Read More »
Office Hours:  8:30 a.m. – 4:30 p.m.
Students may enter the school campus at 8:30 a.m.
Road Closure Traffic Pattern 11/21-11/30
We received notice from the county that the final paving for Veterans Pkwy south of Longleaf Parkway will be completed from Monday, November 21 through Wednesday, November 23.   Due to the construction, Veterans Pkwy south of Longleaf Pine Pkwy will be closed to traffic for school arrival and dismissal on Monday November 21st, and Tuesday November 22nd.  No school due to Thanksgiving Holiday on Wednesday.
We are requesting all staff, families, and students to utilize the entrance of Knights Lane from Longleaf Pine. For those families who were with us last year, arrival and dismissal procedures will look like they did last year. This is only temporary, and we will resume using both roads upon our return on Monday November 28th. Thank you for your assistance as this portion of the Veterans Parkway project is finished. 
Tours are available after school on Wednesdays at 3:00 p.m. with appointment.  E-mail [email protected]
to schedule.
Thank you for volunteering your time and automobile to help transport our students to offsite events or activities.
In order to protect the health and safety of our students, our District requires that anyone (employee or volunteer) transporting students to and from school-related activities must receive prior approval. Before such approval may be granted, you must submit certain required information and agree to abide by certain rules regarding the operation of the vehicle.
Please click the link below to proceed.
Cafeteria Menu and Pricing 2022-22
Monday:  Popcorn Chicken, assorted fruits and vegetables, milk or water
Tuesday:  Chicken Sandwich, assorted fruits and vegetables, milk or water
Wednesday:  Hamburger, assorted fruits and vegetables, milk or water
Thursday:  Mac & Cheese, assorted fruits and vegetables, milk or water
Friday:  Pizza, assorted fruits and vegetables, milk or water
November 23 – 25, 2022
Thanksgiving Break
Wednesday, December 14, 2022
Academy Showcase
World Golf Village
3:30 pm – 7:00 pm
Wednesday, December 21, 2022
End of 2nd Quarter
December 22, 2022 – January 3, 2023
Winter Break
Wednesday, January 4, 2023
Teacher Planning Day
Thursday, January 5, 2023
Classes Resume
Thursday, January 12, 2023
Academy Night
6:00 pm
Monday, January 16, 2023
Martin Luther King Day
Monday, February 6, 2023
Teacher In-service Day
Monday, February 20, 2023
Presidents Day Holiday
Friday, April 28, 2023
Junior/Senior Prom
World Golf Village
7:00pm – 10:00pm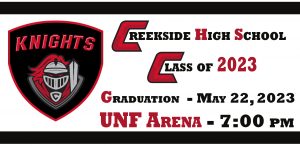 (Click button above to see/search all upcoming athletic events.)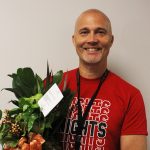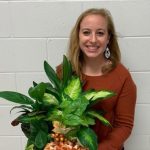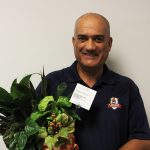 Stacy Ray
2022-2023 Creekside High School Teacher of the Year
Hannah Hazelbach
2022-2023 Creekside High School Rookie Teacher of the Year
Ali Fayazi
2022-2023 School Related
Employee of the Year
School Board Respresentative
Beverly Slough, District 1 representative to the St. Johns County School Board, writes periodic updates for parents and others concerning school district matters. If you would like to receive the updates, please email her so that she can add you to the distribution.
If you are a person with a disability who needs assistance and planning to attend a school meeting or program, please contact Creekside High School with your specific need at 904.547.7300.
"Educational Surrogate Parent Training" on Dec. 6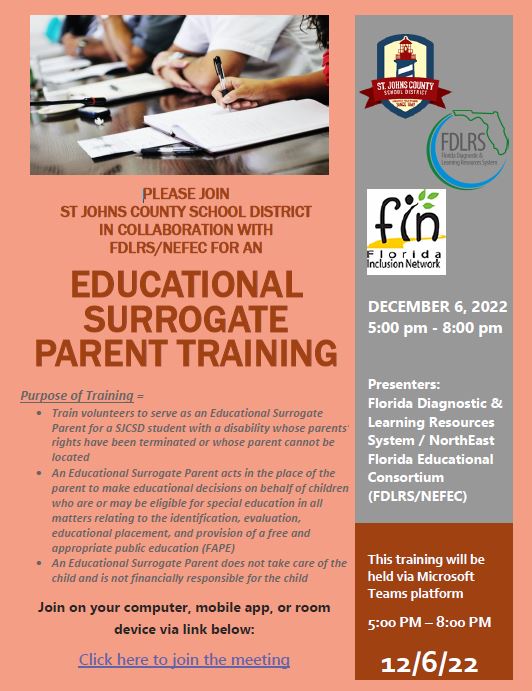 Please join us on Tuesday, December 6, 2022, from 5pm to 8pm for "Educational Surrogate Parent Training." The training will be presented virtually by Florida Diagnostic and Learning Resources System / Northeast Florida Educational Consortium (FDLRS/NEFEC).
This is just a reminder that anyone (parent, guardian, friend, neighbor, aunt, uncle) must have school access to attend an event at Creekside High School, have lunch with a student and/or attend an awards assembly. If you have not already done so, please complete the School Access Form. The process for approval may take up to 4 weeks, so please fill out the application sooner than later for any guests that would like to have school access. Once the application is approved, school access will be valid for three years.
If you have been approved in any St. Johns County School in the past three years you do not need to apply again, simply send an email to [email protected] to have your status checked and possibly renewed.
FortifyFL is a website and app developed at the direction of the Florida Legislature. Any student, educator, parent or member of the public can report school safety concerns directly to law enforcement and school administrators anonymously and easily through the FortifyFL app or getfortifyfl.com.
The mission of Creekside High School is to inspire good character and a passion for lifelong learning in all students, creating educated and caring contributors to the world.