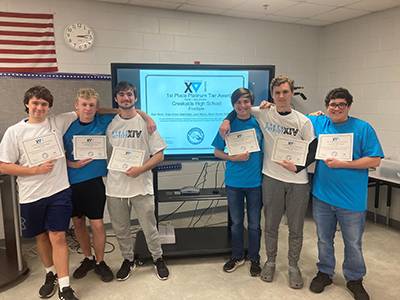 Creekside's CyberPatriots Team Takes 1st in State
The National Youth Cyber Defense Competition places teams of high school students in the position of newly hired IT professionals tasked with managing the network of a small company. Through a series of online competition rounds, teams are given a set of virtual operating systems and are tasked with finding and fixing cybersecurity vulnerabilities while …
Creekside's CyberPatriots Team Takes 1st in State Read More »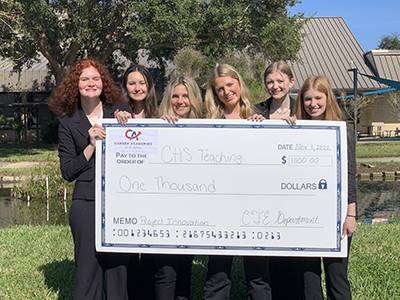 Teaching Academy Places 2nd in District Project Innovation Competition
Congratulations to the Teaching Academy's award-winning Project Innovation Team, ProtectED, for placing second out of nineteen teams in the district and also for winning Best Pitch at The Link's EnterCircle Summit! The team members (Lauren Prangley, Bryn Fremont, Sophie Garris, Reese Kinney, Elizabeth Bridgewater, and Halle Williams) developed a product called the Tot Tag, a …
Teaching Academy Places 2nd in District Project Innovation Competition Read More »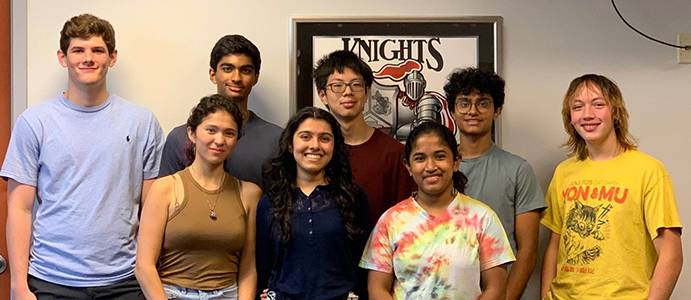 National Merit Semifinalists Announced
Congratulations to the following Creekside High School students who are Semifinalist in the 2023 National Merit Scholarship Competition: Evan Johnson Maddox Jordan Sabrina LaVopa Ravi Nitta Hari-Krishna Patel Erin Philip Krisha Shah Wuzhou Xiong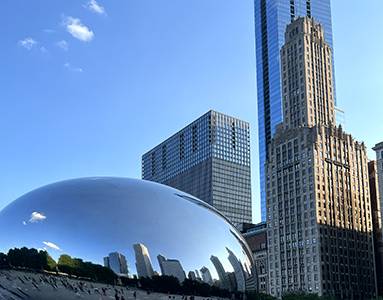 FBLA Students Place in National Competition
After qualifying at the FBLA District and State competitions, Alexander Sheridan, Teja Nitta, and Rohit Bongu placed in their respective events at the FBLA National Leadership Conference this summer held in Chicago, IL.  Alexander placed 10th in the Introduction to Parliamentary Procedures event which included a timed, 100-question objective test.  Teja and Rohit placed 7th …
4A CHS Track State Champions
CONGRATULATIONS to the following track athletes from this past Saturday's 4A State Champs Track meet at UF: 4A State Champions: 4 x 800 meter relay: Tanner Simonds, Hudson Finocchio, McCall Williams, and Jesse Benavides. #1 in Florida, #9 fastest time in the nation, and all-time school record with 7:46.86 200 meter: Christian Miller. #2 in …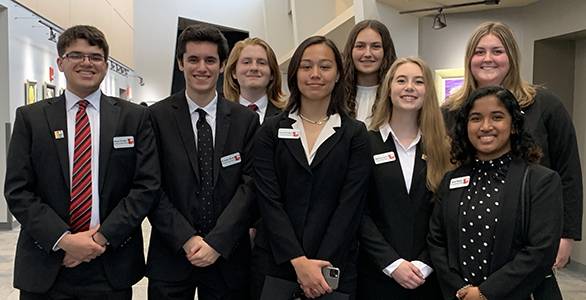 Creekside ACE Teams Sweep Competition
ACE (Architecture, Construction, and Engineering) is a national after school mentorship program that our engineering students participate in throughout the year. Students work in teams and are given a project, where they must come up with a solution, complete designs, and presentation. Several engineering professionals work weekly with our students to help guide them through …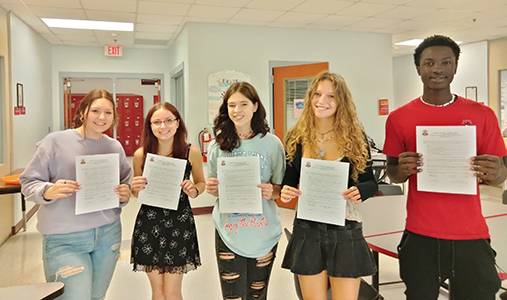 CHS Teaching Academy Seniors Sign SJCSD MOU
Congratulations to the first graduating seniors in the Future Teachers Academy at Creekside High School! These five students are signing their MOUs with SJCSD and we are looking forward to calling them our colleagues in the future. Erica Kromer placed 2nd in the state at the FIU Virtual Teaching Conference for her performance in the Job …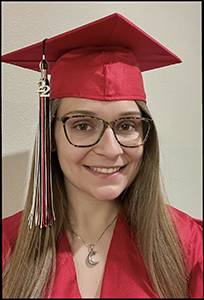 American Sign Language Honor Society Scholarship
Karsyn Mosley received Creekside's American Sign Language Honor Society's scholarship.  Karsyn has decided to dedicate her life in becoming a speech and language therapist specifically within the Deaf Community.  Her goal is also to "build up society's perceptions" of deaf individuals and also help with communication barriers.  She has shown strong dedication through her four …
American Sign Language Honor Society Scholarship Read More »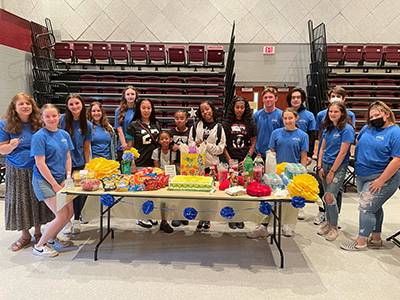 Dreams Come True Celebration
For several years, Creekside High School's Dreams Come True Club has been raising money and waiting for COVID restrictions to lift so that they could grant a wish and celebrate a child battling a life-threatening illness. Their dream finally came true when Ja'Mya and her family dropped in for a party, complete with yellow balloons …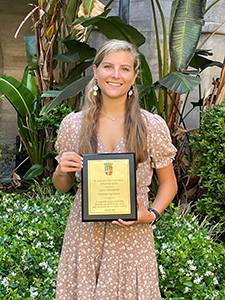 St. Augustine City Commission Citizenship Award
Leah Crenshaw won the St. Augustine City Commission Citizenship award  to represent Creekside High School in St. Johns County. The award is for Leadership and service to your school and your community.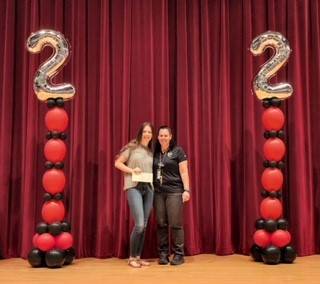 Link Crew Scholarship
The Link Crew $1000 Scholarship was awarded to Katie Redway. She is a natural leader whose character is displayed in everything she does. She understands being a leader means you collaborate, listen, and humble yourself to build others up.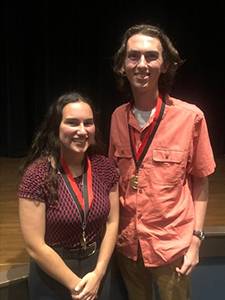 Honor the Graduate Awards
Every year the St. Johns County chapter of the Christian Educators Association International recognize two students from each high school who have lived out their faith during high school.  This recognition is called Honor the Graduate.  Our Creekside Brothers and Sisters in Christ and Fellowship of Christian Athletes clubs have been meeting throughout the year …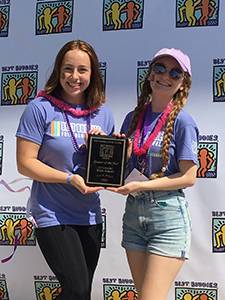 Best Buddies Receives Chapter of the Year Award
Creekside Best Buddies chapter received the Chapter of the Year award for North Florida!  Our chapter alone raised over $16,500!!!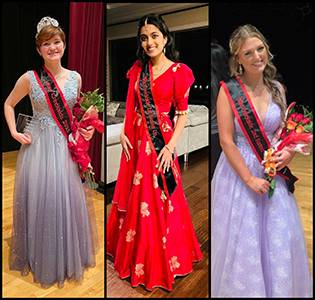 Miss Creekside 2023
The Miss Creekside Pageant was held April 9, and we are so incredibly proud of the talented and dedicated participants. We are also thankful to the Junior gentlemen escorts, guest performers, backstage student volunteers, and faculty volunteers for helping us to make pageant night great.   Please join us in congratulating the award recipients and …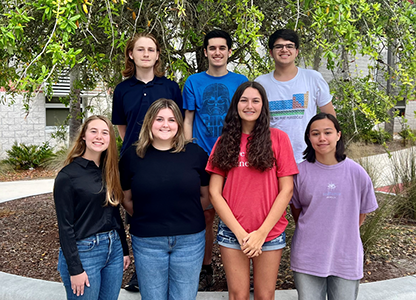 Creekside Engineering Students Advance to Present Their ACE Mentoring Project in Washington DC
Office Hours:  8:30 a.m. – 4:30 p.m.
Students may enter the school campus at 8:30 a.m.
Tours are available after school on Wednesdays at 3:00 p.m. with appointment.  E-mail [email protected]
to schedule.
Thank you for volunteering your time and automobile to help transport our students to offsite events or activities.
In order to protect the health and safety of our students, our District requires that anyone (employee or volunteer) transporting students to and from school-related activities must receive prior approval. Before such approval may be granted, you must submit certain required information and agree to abide by certain rules regarding the operation of the vehicle.
Please click the link below to proceed.
Cafeteria Menu and Pricing 2022-23
Monday:  Chicken Nuggets/Popcorn Chicken; alternate weeks Chicken Biscuit slider/French Toast, assorted fruits and vegetables, milk or water
Tuesday:  Hot Dog/Macaroni & Cheese; alternate weeks Penne Pasta with Meatballs, assorted fruits and vegetables, milk or water
Wednesday:  Chicken Sandwich, assorted fruits and vegetables, milk or water
Thursday:  Burger, assorted fruits and vegetables, milk or water
Friday:  Pizza, assorted fruits and vegetables, milk or water
March 27 – 31, 2023
Senior Week
Monday- Twin Day and popsicles during lunch
Tuesday- ACT Day
Wed- Career Day and Senior lunch at the stadium (Moe's)
All 3 lunches
Thu- College Shirt Day
Fri- Class colors day (black) and Universal Grad Bash Trip
March 29- 30, 2023
Cap and Gown delivery during lunches
3/29 -Outside at the stadium
3/30 -Outside the cafeteria
Thursday, March 30, 2023
Military Appreciation Baseball Game
Saturday, April 1, 2023
Royal Knight
April 7 and 10, 2023
Holidays
Saturday, April 22, 2023
Miss Creekside
Monday, April 24, 2023
Senior Skits
Tuesday, April 25, 2023
Spring Band Concert
Thursday, April 27, 2023
Spring Chorus Concert
Friday, April 28, 2023
Prom 2023
Renaissance Hotel at the World Golf Village
7:00 pm – 10:00 pm 
Prom 2023 Information
Guest Form Guidelines
Prom 2023 Guest Form
What Do I Need to Know for Prom Night
CHS Prom 2023 Ticket Purchase
Friday, May 12, 2023
Last day for Seniors
Wednesday, May 17, 2023
Graduation Rehearsal (Mandatory)
9:00 AM at UNF
Thursday, May 18, 2023
Senior Debt Day
8:30 – 10:30
CHS Auditorium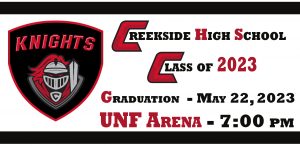 Tuesday, August 1, 2023
Link Crew Freshman Day 2023
8:30 a.m.
CHS Gym
(Click button above to see/search all upcoming athletic events.)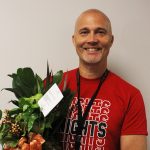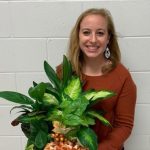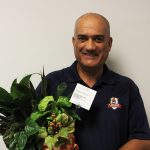 Stacy Ray
2022-2023 Creekside High School Teacher of the Year
Hannah Hazelbach
2022-2023 Creekside High School Rookie Teacher of the Year
Ali Fayazi
2022-2023 School Related
Employee of the Year
School Board Respresentative
Beverly Slough, District 1 representative to the St. Johns County School Board, writes periodic updates for parents and others concerning school district matters. If you would like to receive the updates, please email her so that she can add you to the distribution.
If you are a person with a disability who needs assistance and planning to attend a school meeting or program, please contact Creekside High School with your specific need at 904.547.7300.
ESE Parent Survey
Each year, the Florida Department of Education (FDOE) conducts an Exceptional Student Education (ESE) Parent Survey. The survey is open to all parents of children with an individual education plan (IEP) receiving ESE services from preschool age through grade 12.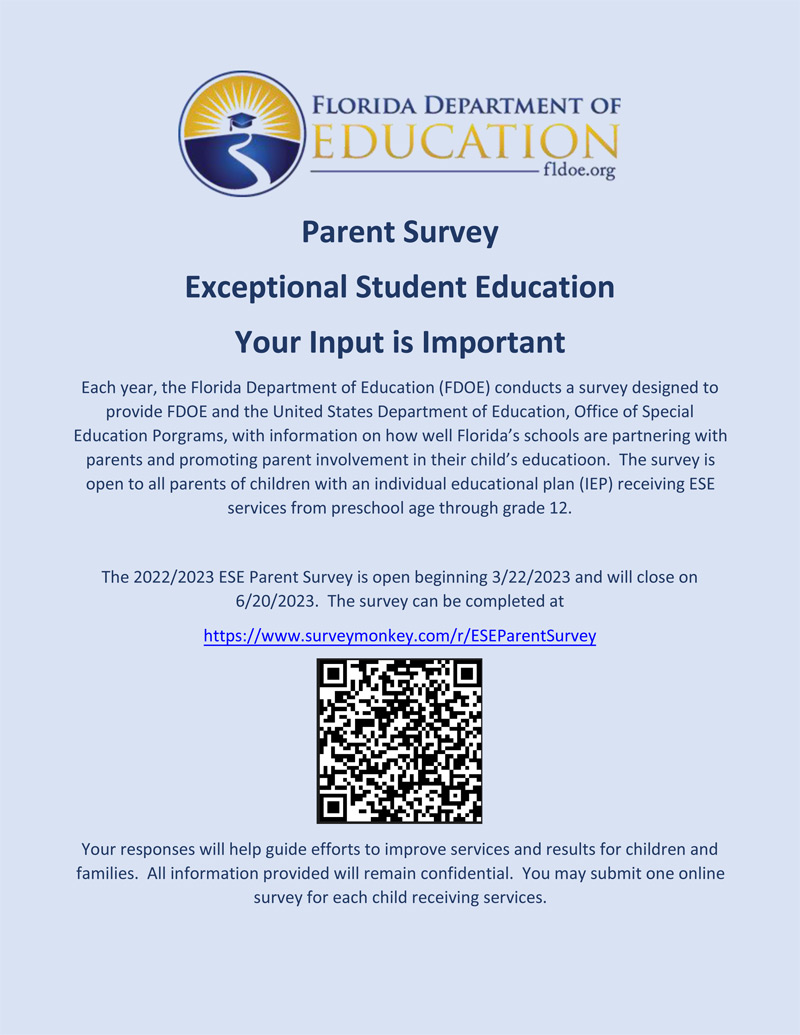 2022-2023 Social Studies Instructional Materials Adoption
The St. Johns County School District has begun the review process for the Social Studies Instructional Materials Adoption. Once available for review, the digital resources will be posted on the Instructional Materials Adoption web page and available for review. The core resources that have been submitted for evaluation were selected from the state adoption consideration lists when available. Additional resources for advanced programs may be reviewed from materials listed as appropriate for the program indicated.
Some print materials may be available for review. If you would like access to the available printed materials or require assistance reviewing the online resources, please call the Instructional Resources and Media Services office at 904.547.3947. Materials are available for review from 8:30 AM - 4:00 PM when district offices are open.
We encourage parent and community participation in our adoption process. If you would like to serve on a school committee and formally review the resources as a part of the school review team, please contact any school or our office at 904.547.3947 by April 21, 2023. Committee membership is limited. School administrators will select the appropriate number of reviewers from the list of interested participants.
This is just a reminder that anyone (parent, guardian, friend, neighbor, aunt, uncle) must have school access to attend an event at Creekside High School, have lunch with a student and/or attend an awards assembly. If you have not already done so, please complete the School Access Form. The process for approval may take up to 4 weeks, so please fill out the application sooner than later for any guests that would like to have school access. Once the application is approved, school access will be valid for three years.
If you have been approved in any St. Johns County School in the past three years you do not need to apply again, simply send an email to [email protected] to have your status checked and possibly renewed.
FortifyFL is a website and app developed at the direction of the Florida Legislature. Any student, educator, parent or member of the public can report school safety concerns directly to law enforcement and school administrators anonymously and easily through the FortifyFL app or getfortifyfl.com.
The mission of Creekside High School is to inspire good character and a passion for lifelong learning in all students, creating educated and caring contributors to the world.