Start of School Information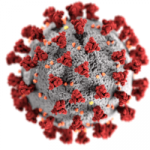 Visit the St. Johns County School District COVID-19 Dashboard for current quarantine guidelines, health and safety documents.
Please contact the District COVID Support Team at (904) 547-8230 for all COVID-related issues.
Office Hours:
8:30 a.m. – 4:30 p.m.
Students may enter the school campus at 8:30 a.m.
Tours are available after school on Wednesdays at 3:00 p.m. with appointment.  E-mail [email protected]
to schedule.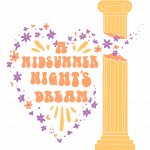 October 21, 22, and 23, 2021
A Midsummer Night's Dream
Presented by Creekside Theatre
Monday, October 25, 2021
Underclassmen Pictures Retakes
Thursday, November 11, 2021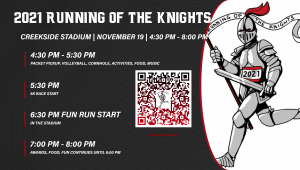 Veterans Day
Friday, November 19, 2021
Running of the Knights
November 24-26, 2021
Thanksgiving Break
Tuesday, December 21, 2021
End of 2nd Quarter
December 22, 2021 – January 4, 2022
Winter Break
Wednesday, January 5, 2022
Teacher Planning Day
Thursday, January 13, 2022
Academy Showcase
World Golf Village
Monday, January 17, 2022
Marting Luther King Jr. Day Holiday
Thursday, January 27
Creekside Academy Night
Friday, May 13, 2022
Prom
Renaissance Hotel
World Golf Village
Friday, October 29, 2021
  – Varsity Football vs. Oakleaf

Thursday, November 4, 2021
  – Varsity Boys Weightlifting vs. Nease
Friday, November 5, 2021
  – Varsity Football vs. Ponte Vedra
(Click button above to see/search all upcoming athletic events.)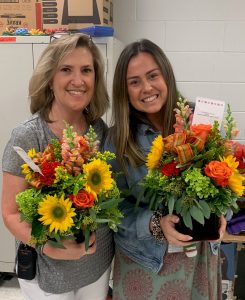 Michelle Joyner
2021-2022 Creekside High School Teacher of the Year
Chloe Lipovetsky
2021-2022 Creekside High School Rookie Teacher of the Year
Ali Fayazi
2020-2021 School Related
Employee of the Year
Easy to Pay Online!
Three levels to choose from…
Basic $20
Bronze $35
Silver $50
Gold $100
Knight in Shining Armor $300
The membership info is located
on the CHS website,
under the Parents tab and PTSO.
Memberships are paid
ONLINE this year!
Thank You!
School Board Respresentative
Beverly Slough, District 1 representative to the St. Johns County School Board, writes periodic updates for parents and others concerning school district matters. If you would like to receive the updates, please email her so that she can add you to the distribution.
If you are a person with a disability who needs assistance and planning to attend a school meeting or program, please contact Creekside High School with your specific need at 904.547.7300.
2021-2022 Instructional Materials Adoption for Mathematics
The St. Johns County School District curriculum department formally announces the review process for the 2021-2022 Instructional Materials Adoption for Mathematics. The core resources that have been submitted for evaluation have come from the state adoption bid list and other submitted resources from publishers when available. Additional resources for advanced programs may be reviewed from materials listed as appropriate for the program indicated.
Please visit the instructional materials website to view the resources that are being considered for adoption. If you would like access to any available printed materials or require assistance reviewing the online resources, please call the Instructional Resources and Media Services office at 904.547.3947. Materials are available for review from 8:30 a.m. - 4:30 p.m.
We encourage parent and community participation in our adoption process. If you would like to serve on a school committee and formally review the resources as a part of the school review team, please contact any school or our office at 904.547.3947.
To learn more about the policies and procedures for textbook adoption, visit the Florida Department of Education Instructional Materials Website.
B.E.S.T. Standards Presentation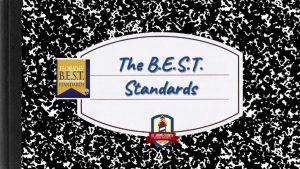 The purpose of the video is to provide parents and community members with information about the new B.E.S.T. Standards for English Language Arts and math. The video also explains the timeline for the implementation of the new standards.
View the B.E.S.T. Standards Presentation
This is just a reminder that anyone (parent, guardian, friend, neighbor, aunt, uncle) must have school access to attend an event at Creekside High School, have lunch with a student and/or attend an awards assembly. If you have not already done so, please complete the School Access Form. The process for approval may take up to 4 weeks, so please fill out the application sooner than later for any guests that would like to have school access. Once the application is approved, school access will be valid for three years.
If you have been approved in any St. Johns County School in the past three years you do not need to apply again, simply send an email to [email protected] to have your status checked and possibly renewed.
FortifyFL is a website and app developed at the direction of the Florida Legislature. Any student, educator, parent or member of the public can report school safety concerns directly to law enforcement and school administrators anonymously and easily through the FortifyFL app or getfortifyfl.com.
The mission of Creekside High School is to inspire good character and a passion for lifelong learning in all students, creating educated and caring contributors to the world.