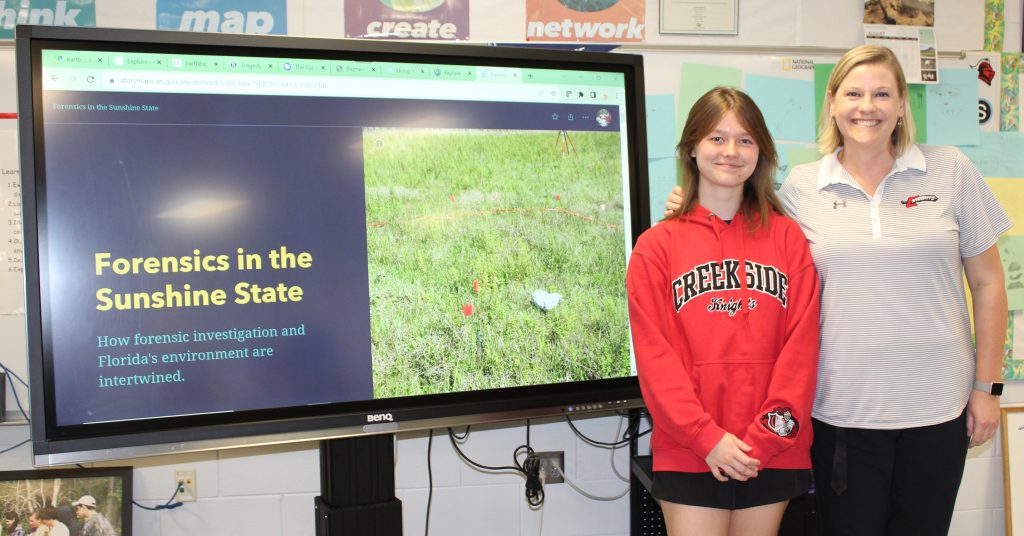 CONGRATULATIONS to Creekside's Academy of Environmental Sciences students who won the ESRI 2023 Florida GIS StoryMaps competition! This year's competition topic was Living in the Sunshine State.
Lauren Griffin won FIRST PLACE in the state of Florida for her StoryMap on Forensics in the Sunshine State. Check out her StoryMap here:  https://arcg.is/108OP90
Grey Kohl received Second Place with her StoryMap on Habitat Fragmentation: https://arcg.is/00Paif
Honorable Mentions for the state competition include:
The Florida GIS StoryMaps competition is part of a national competition held by ESRI. The Florida Geographic Alliance hosts a state competition annually as part of ESRI initiatives to expand GIS technology applications and skills to youth. Students in the Academy of Environmental Sciences have partnered with ESRI Geographic initiatives for over 14 years and learn geographic information systems and spatial analysis to use in their university studies and future career pathways.
Lauren Griffin will represent her classmates and the Academy of Environmental Sciences at the Central Florida GIS conference held this September as she shares her StoryMap and explorations in GIS with community partners from around the state. CONGRATULATIONS Lauren and all Awardees of the 2023 Florida GIS StoryMap competition!