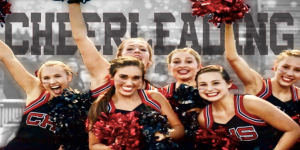 ***CHS Winter Cheer tryout clinics will be held Oct 3, Oct 10 and October 13th.  All tryout forms, teacher recommendations and physical forms must be completed by September 29th to participate.  Packets are available in the front office. Please contact

[email protected]

  for more information.***
Sideline Cheerleading
The CHS Cheer program supports both JV and Varsity Football, JV and Varsity Girls/Boys Basketball, and Wrestling by attending games and cheering from the sideline. The CHS Cheer Program also supports all school activities and provides spirit and entertainment at all pep rallies and other performance opportunities. In addition to their time spent at school raising spirit, these cheerleaders are also out in the community involved in service activities such as Stuff the Bus, back to school supply drive, Ronald McDonald House meals, Adopt a family Omega House, Holiday Food Drive, and many other community service opportunities that are presented to the team to support.
These hard-working and talented student athletes also compete for their school. Please visit the Competitive Cheer page under Winter Sports for more information.
Please contact Coach Clary

[email protected]

with any cheer questions~!
Former Knight and Current Collegiate Cheerleaders
Callie Johnson, Jacksonville University
Katie and Emily Xanders – Florida State University
Abbey Prangley – Georgia Southern University
Emani Plummer – Florida International University
2017 SUMMER Accomplishments:
The CHS Cheer program is off to a great start receiving multiple top awards at UCA Summer Camp.
The JV and Varsity teams trained with and competed against 12 other teams from the area.
Their energy and spirit was recognized as well as their leadership and talent.
See below for all of their accomplishments.
JV
Two Gold Superior Evaluation Ribbons
Extreme Routine CHAMPION
Top Banana Overall Program Award
JV Jump Off Champion – Sydney Herbst
Pin It Forward – Megan H and Sydney H
All Americans – Olivia B, Mia E, Sydney H, and  MaryBeth M
VARSITY
Two Blue Superior Evaluation Ribbons
Extreme Pyramid CHAMPION
Extreme Routine 2nd Place
Excellence in Leadership Award
Top Banana Overall Program Award
Varsity Jump Off Champion – Abby R
Pin It Forward – Julia G and Abby R
All Americans – Meaghan B, Julia G, Kimari H, Alyssa P and Chase R