See flyer above for information on 2020-2021 Cheerleading Information Meeting.
Email [email protected] for more information.
Sideline Cheerleading
The CHS Cheer program supports both JV and Varsity Football, JV and Varsity Girls/Boys Basketball, and Wrestling by attending games and cheering from the sideline. The CHS Cheer Program also supports all school activities and provides spirit and entertainment at all pep rallies and other performance opportunities. In addition to their time spent at school raising spirit, these cheerleaders are also out in the community involved in service activities such as Stuff the Bus, back to school supply drive, Ronald McDonald House meals, Adopt a family Omega House, Holiday Food Drive, and many other community service opportunities that are presented to the team to support.
These hard-working and talented student athletes also compete for their school. Please visit the Competitive Cheer page under Winter Sports for more information.
Please contact Coach Clary

[email protected]

with any cheer questions~!
Former Knight and Current Collegiate Cheerleaders
Callie Johnson, Jacksonville University
Katie and Emily Xanders – Florida State University
Abbey Prangley – Georgia Southern University
Emani Plummer – Florida International University
Congrats to our Universal Cheerleading Association staff members Emily Xanders, Katie Xanders and Kayla Clary, who are being paid to do what they love!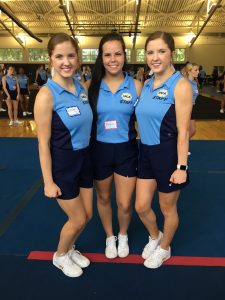 2018 SUMMER Accomplishments:
The CHS Cheer program is off to a great start receiving multiple top awards at UCA Summer Camp.
The JV and Varsity teams trained with and competed against 30 plus teams from Florida and Georgia
Their energy and spirit was recognized as well as their leadership and talent.
The entire program was awarded the TOP BANANA on the first day setting the bar for everyone else at camp
At the end of camp, all of the teams voted on which team showed the most LEADERSHIP and CREEKSIDE was voted as the winner for the 2nd year in a row for this prestigious award!!!
And new award this year – COACH OF THE WEEK – was awarded to our very own Coach Tanya for her energy and spirit setting the example for all of the campers!
More awards from summer camp below
JV
Two Gold Superior Evaluation Ribbons
Spirit Stick
Game Day Chant CHAMPIONS
JV Jump Off Champion – Bri N
Pin It Forward – Abby H
All Americans – Allie B, Leah P, Maddie W
VARSITY
Two Gold Superior Evaluation Ribbons
Extreme Routine CHAMPION
Varsity Jump Off Finalist – Abby R
Pin It Forward – Sydney H
All Americans – Emily S, Abby R, McKenzie P, Kate C