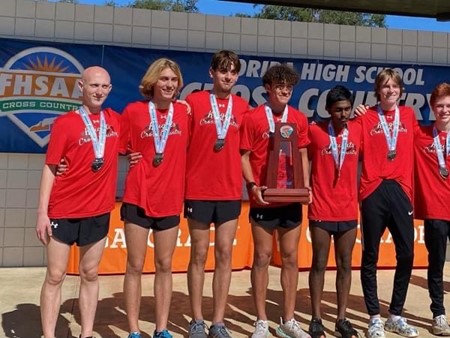 Mission Statement
The Creekside Boys Cross Country team is dedicated to creating an atmosphere that makes everyone feel safe, accepted, and appreciated. All teammates treat each other like family and build each other up so everyone can be successful on the team and in life. The basis of this atmosphere is trust and accountability – Trust in and accountability to:  Coaches, team and self.  The team comes first, and no individual can fully succeed without the support of the team.  Each runner pushes the runner in front of them to be best they can. 
We aspire to forge each athlete into a Champion – in Body, Mind and Heart.  The coaches determine how to train, and the athletes execute that training to get their Body to the start line in proper condition.   The coach teaches the athlete how to run, race, and strategize for competitions.  The athletes are responsible for keeping their Mind in the workout and races to execute the proper approach and strategy.  The coach makes all attempts to motivate the team and the athlete as an individual, but a coach can never teach "heart".  The athlete is responsible to put their Heart into the race, and there will come a time when only heart can make the difference. 
Most importantly, we are a humble family. We win with pride and lose with dignity. We respect our school, our teachers, our friends, ourselves, members of all other teams, and the sport of Cross Country. 
Summer Conditioning 2023
Team Expectations
Schedule
Record Book