Head Coach:  Richard Marabell
Click here to read a letter from Coach Marabell
Assistant Coach: John Highsmith
Congratulations to Brandon Dickman for signing to wrestle with Newberry College!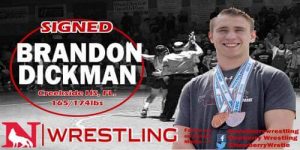 Brandon Dickman is awarded the LHM Scholarship Award in memory of Lew Marabell. The Award and scholarship was presented to Brandon by the Marabell family, which include Luke Marabell, Rick Marabell and Lew's wife Barbara Marabell.

PDF Embedder requires a url attribute 2019 RECORDS FACTS & HISTORY

Creekside Wrestling would like to thank the following sponsors:
Red Knight
Publix Super Market
Venus
Labor Consultants of North America

Black Knight
Aviation Systems Engineering Systems
White Knight
Air Conditioning Services
Wynn Reporting, LCC