The Lady Knights Basketball Team's was proud to participate in a special, service project with St. Johns County Cares and St. Augustine Youth Services on October 7th.
Recently, Head Coach Wade Cashwell was contacted by Meg Balke at St. Johns County CARES with a great service project for the team to assist Chelsea Reppin of St. Augustine Youth Services (SAYS) to revamp a boys bedroom for ages 13-17.  Coach Cashwell said this project "was a great opportunity for us" and he enjoyed coaching the players through the projects planning and designing process. Naturally, the girls chose to custom design a boys room in a basketball theme. The girls gathered and supplied the following decorations: twin bed linens, window treatments, themed wall decorations, area rug, throw blankets, decorative pillows, shower curtain, bath mat and shelving. Then on Saturday October 7th, the girls went to work assembling the decorations in the room that had fresh paint, new carpeting and furniture already provided.  The girls had a ball (pun intended) decorating the room and the boy whose room they revamped told his counselor "I love my room".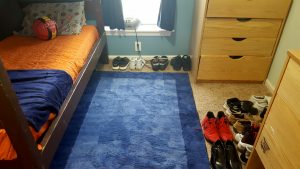 SAYS, is a nonprofit organization that provides food, shelter, clothing, education, care and therapeutic treatment to children since 1989.  All SAYS children need therapeutic treatment.  For most of the boys, this is due to the trauma of abuse and/or severe neglect. Your support of SAYS, helps to build a new home where the children can live, learn, heal and grow in a safe, nonthreatening environment.  For more information about says please visit their website at: http://sayskids.org/.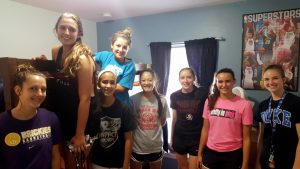 Group photo left to right: Anna Parsankso, Maddy Lippy, Hannah Manigot, Annemarie McLeod, Ellie Cowan, Elli Alderman, Taylor Gardener, Anna Rose Epting. Teammates not pictured that contributed to the project include: Kendall Gracie, Lauren Laughlin, Faith Horn, Allie Anderson and Coach Cashwell.
Photo credits: Coach Wade Cashwell, CHS Girls Head Basketball Coach