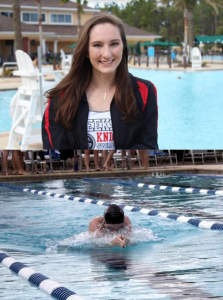 Lauren Rachelle Cusick is a senior at Creekside High School who has swam for the Creekside Knights swim team for four years now. Swimming for the last ten years, Lauren has competed for both CKST and Loggerhead Aquatics. This breaststroker has made many memories from the high school swim team, her most memorable being Creekside's victory at the Florida State Pool Association Invitational meet, in 2016. Winning both first place in swimming and team spirit, the team became very close – another reason Lauren loves swimming for Creekside. Since the team is about to enter it's postseason, Lauren hopes to drop time and help CKST win back their title from Bartram Trail at the Districts meet this year.
All swimmers know that to get better, they don't only practice in the water. The high school swim team has dry land once a week, and although some swimmers don't enjoy being on land, Lauren finds that it definitely helps her performance in the water, "I can feel myself progressively getting stronger each race." All CKST swimmers look forward to the sunrise each morning, because it means practice is close to being finished! Waking up at 5AM everyday can make staying awake challenging to some, but Lauren says it actually keeps her more alert in the mornings. "[it's] good because all of my AP classes are in the morning, but I slowly start to feel tired throughout the day, and once I'm finally home, [the tiredness] just hits me." Between early daily practices, weekly dry land workouts, school, friends, and family, Lauren has learned a lot about responsibility and time management. When she isn't swimming or at school, Lauren loves to stay involved with her church, spending time with her friends, and going to the beach. Although she isn't planning on swimming at college next year, Lauren hopes to be attending Louisiana State University.
Now a senior, Lauren wants to try new things. Contrary to the popular belief, some swimmers enjoy, and are good at, running. Lauren is thinking about trying track during her last year, as it's something she has wanted to do for a while. Speaking of last chances, her favorite thing about being a senior at CHS is "since it's your last time for everything, each little moment is bittersweet." We wish all the best to Lauren in her last few weeks of Creekside swim, and throughout her last year at Creekside high school.
Senior Spotlight written by Student Journalist, Veronica Czajkowski