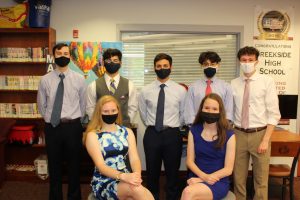 ACE (Architecture, Construction, and Engineering) is a national after school mentorship program that our engineering students participate in throughout the year. Students work in teams and are given a project, where they must come up with a solution, complete designs, and presentation. Several engineering professionals work weekly with our students to help guide them through the process. The final presentations were held in April with the following results:
Creekside's NE Florida team, Tiny House Tetris, won Best Overall. This team consisted of Corrigan Rotz, Brandon Ruckh, Erin Phillip, Jonathan Shuster, Lauren Castillo, Kaylin Damon, Jacob Denson, and Tyler Goncalves
Creekside's National team, won 3rd place in the manufacturing division. This team consisted of Elyse Soracco, Leighanna Goldman, Nicklas Rice, Johnathan Read, Alyssa Buckingham, Ryan Flack, and David Gonzales.
Several scholarships were also awarded:
Leighanna Goldman won the National Scholarship.
Elyse Soracco won a scholarship from ACE NE Florida division.
Grayson Johnson won the ACE of Northeast Florida and Gresham Smith Scholar Scholarship.
Jonathan Shuster won the ACE of Northeast Florida and DPR Construction Scholar Scholarship.
Leighanna Goldman also won the ACE Northeast Florida and ABC Florida First Coast Women's Council Scholar Scholarship.
Amelie O'Hara won the ACE of Northeast Florida and Stellar Scholar Scholarship.
Johnathon Read won the ACE of Northeast Florida and Baptist Health Scholar Scholarship.