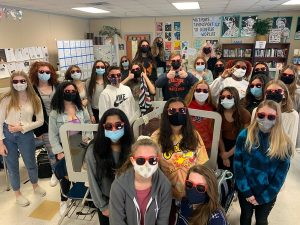 Congratulations to Creekside's new chapter of FFEA, Florida Future Educators of America. Members from across the state met virtually in April to participate in breakout sessions and to find out who placed in the six competitive events at the State level. Creekside members submitted projects for all six events and placed in two of these events.
Lauren Prangley, placed 3rd in the Lesson Plan category, where she had to prepare a detailed lesson plan, present the lesson, and provide evidence from the lesson.
Creekside students placed 4th in the Inside Our Schools competition. Hanna Glatz, Riley Hayes, Erica Kromer, and Emily Hall with an idea inspired by Philippa Lovatt and the rest of the Human Growth and Development class, created the video submission for this event. Hanna was responsible for editing all video elements along with photos and creating the final submission. Riley, Emily, and Erica conducted interviews with Ms. Carnall, Ms. Jasper, Ms. Rakov, and several Best Buddies officers to create a video highlight the partnerships between Access Points and general education classes. The thesis/main idea of the video was "Creekside High School's Best Buddies/Access Points Program has increased positivity and classroom engagement for all Creekside students through partnerships in learning."
Congratulations to Creekside FFEA – so very proud of you!!!