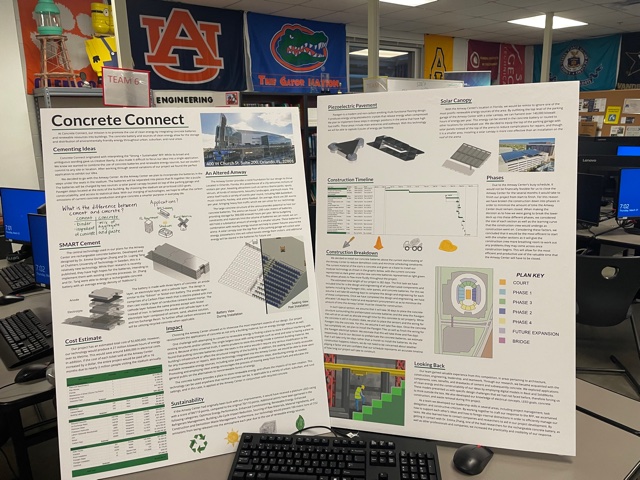 Each year, more than 10,000 students from approximately 1,450 high schools across America participate in the ACE Mentoring Program, an after-school consortium designed to foster high school students' enthusiasm toward careers in architecture, construction and engineering. Professionals from the "industry" guide groups of students through a simulated "RFP" (Request for Proposal). The students manage a project from conception to virtual implementation and are responsible for all stages of development … from budget analysis and research to materials selection and structure design.
This year, 8 dedicated students from Creekside High School worked on that chapter's national-level ACE team and were one of only three selected to participate at the national competition in Washington, DC.
On April 25th, William Bass, Alyssa Buckingham, Shaan Chudgar, Ryan Flack, Sydney Lynch, Erin Philip, Kendall Reckamp and Brandon Ruckh will present their project in our nation's capital and vie for the top spot.
Creekside's RFP was the highest ranked in the category called "Strong + Sustainable." As a team they had to decipher the RFP then create a solution based on the request. The students' proposal, "Concrete Connect" showcased the "smart" aspects of cement and demonstrated the sustainable and carbon-neutral properties of this common building material.
"Concrete Connect" promotes the use of clean energy by integrating rechargeable concrete batteries and renewable resources into the structural features of existing buildings. This "concrete battery" provides a source of clean energy and allows for the storage and distribution of environmentally friendly energy throughout urban, suburban, and rural areas. The Amway Center in Orlando, Florida, proved to be an ideal model for the team. By incorporating concrete batteries in the building's stairs and under the seats, installing Pavegen piezoelectric tiles at the main entrances and placing a solar canopy atop the parking garage, the students were able to demonstrate just how their idea could be implemented in society's built environment.
The success of these Creekside students is a testament to months of brainstorming, research, and hard work. The support and guidance they received from their teachers and ACE Mentors was an invaluable part of their journey.