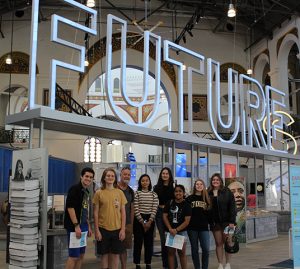 ACE (Architecture, Construction, and Engineering) is a national after school mentorship program that our engineering students participate in throughout the year. Students work in teams and are given a project, where they must come up with a solution, complete designs, and presentation. Several engineering professionals work weekly with our students to help guide them through the process. The final presentations were held in April with the following results:
Creekside's Bridge to the Future Team, won the regional Sustainable Concrete division. This team consisted of Tornyelli Adamah, Luke Dixon, Joseph Hadad, Nikhil Kumar, Karsyn Mosley, Corrigan Rotz, and Brandon Shaw.
Creekside's Deb's Store Team, won the regional Urban Renewal division. This team consisted of Emily Anderson, Melania Carrigan, Andrew Hardee, Chris Huber, Ander Nordin, Magnus Schmidt, Alex Simes, and Carter Smith.
Creekside's Jacksonville Fire Memorial Team, won the regional Memorial to the Future division.  This team consisted of Garrett Alberts, Jacob Denson, Kaden Hooker, Ryan Nagao, Ingrid Soracco, Tim Vergeichik, and Annabelle Yazdiya.
Creekside's National team, won 1st place in the National Sustainable Concrete division and 2nd place overall in the nation. This team consisted of William Bass, Alyssa Buckingham, Shaan Chudgar, Ryan Flack, Sydney Lynch, Erin Philip, Kendall Reckamp, and Brandon Ruckh.
Several scholarships were also awarded.  The scholarship winners at Creekside included Shaan Chudgar, Corrigan Rotz, Alexander Simes, Alyssa Buckingham, Brandon Ruckh, and Sydney Lynch.