Most people don't have much to look forward to in the early part of February.  The average person is likely still recovering from the Super Bowl or looking ahead to their big plans for Valentine's Day.  That is, unless you are a seventeen or eighteen year old senior, student-athlete with plans to play collegiate sports.  The first Wednesday in February is more commonly known as National Signing Day, where students that have received college scholarship offers or plan to take their game to the next level can officially sign their letters of intent.  Over the years, the day has somewhat taken on a life of its own.  There is excitement and jubilation as well as anxiety and drama.  Creekside High School celebrated the day in the usual fashion; with several athletes spread out across the stage and an auditorium filled with proud parents, family and friends.  In fact, Creekside had 24 athletes signing letters of intent ranging from the University of North Florida to the University of Virginia and all the way out to the United States Air Force Academy in Colorado.
For most athletes, National Signing Day is the icing on the cake to an illustrious career.  However, the feeling of putting pen to paper can also be a bit overwhelming.  "I felt nervous but mainly excited. I've watched teammates and friends the last 4 years sign and I wanted to be up there one day. It's always been my goal to be able to play soccer in college so to be up there felt like I accomplished something huge," said senior Lauren Hollis, who signed with East Carolina University.  Senior baseball player, Ty Angevine, who signed with the University of West Florida, added that "it was a surreal experience for my fellow athletes and I . It was a blessing to be recognized for all the hard work and dedication that it has taken to reach my goals and dreams."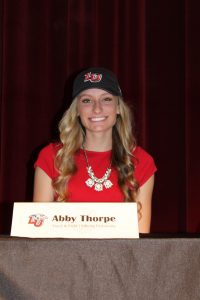 Each student had different reasons for choosing their particular college or university.  Some of them will be taking their talents hundreds of miles from home. Senior track and field athlete Abby Thorpe says, "I chose Liberty because it was the best fit for me.  After leaving the campus I knew that I didn't want to go anywhere else. Liberty definitely has a standard of excellence throughout their whole campus, from the class rooms and faculty, to the facilities".  State Champion Abbey Ellis committed to swim for the University of South Carolina stated, "I can't wait to swim for Coach Moody and be part of the program that he and the staff have built at USC. When I spent time with the team and coaches it became clear there's something special happening in Columbia. The family atmosphere of success made me feel at home. I know this program will help me reach my fullest potential as a student and an athlete."  Other athletes plan to stay a bit more local, choosing from the wealth of schools that Florida has to offer.  Tara Openshaw found a home just down I-10 West in Tallahassee at Florida State University.  "I chose Florida State University because it combined my desire of competitive athletics and challenging academics. When I took my official visit, it felt like home. I had the option to compete in NCAA Division I while getting a highly ranked public university degree and that was an opportunity I just could not pass up."   Julia Duff, a Jacksonville University lacrosse commit, said "I decided to choose Jacksonville University because of the location, team and majors. I wanted to stay close to home because I love the warm weather and did not want to be far from family. I love the lacrosse coaches at JU. They are all about being a close knit family which is what I was looking for. They play a super fast style of play always trying to catch the other team off guard anytime during the game, playing the same style of play JU is a perfect fit."
Near or far, lacrosse, track or baseball, there is one common thing that is shared among the Class of 2018… they will miss their friends, teachers, coaches and teammates here at Creekside High School.  "I will miss many things about Creekside but what I will miss most  is all the great teachers and coaches that have helped me achieve my goals and dreams," said Ty Angevine.  Lauren Hollis added, "I will probably miss my friends the most from Creekside, especially the girls soccer team. I've made most of my friends at school through soccer and I'll just miss being out there on the field with them."  To Abby Thorpe, it's all a bit bittersweet.  "

In 3 months

 I'll be done with high school forever. Creekside has been full of highs and lows… but the atmosphere of fall night football games, school dances, and friendly familiar faces, will be missed… but I'm so excited for the future and I know that the best days are still ahead of me. I cannot wait to see what's all to come!"
Good luck CLASS OF 2018 Creekside student-athletes!
For a full list of student-athletes who signed, see the chart below: