Maybe it's time for St. Johns County to annex the victory podium at the FHSAA swimming championship.The winners' list from Friday night: Summer Stanfield. Ian Cooper. Olivia Peoples. Jack VanDeusen. Four relays, too, two from Bartram Trail and one each from Creekside and Nease, to mark the most successful swimming season in county history.That's not […]
St. Johns County displayed is dominance in the pool as Creekside edged Bartram Trail for the second straight year and Nease finished fifth. The Bears and Knights finished second and third in the boys competition. Source: Creekside repeats as Class 3A state girls swimming champion
A day after Creekside won a second consecutive girls state swim title and finished third in the boys championships, the Knights took home a pair of third-place finishes at the Class 3A state cross country championships in Tallahassee.Ashlyn Iliff (18:23.9) and Claire Openshaw (18:28.1) finished 10th and 11th at Apalachee Regional Park to lead the […]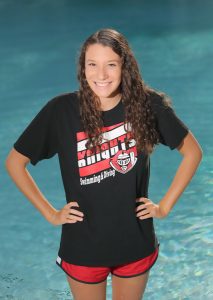 Anna Gapinski is a Senior on Creekside's Swim and Dive team.  She has been swimming competitively for the past 12 years and has been on the Swim and Dive Team at Creekside since she was a freshman. Over the last 3 years, Anna has contributed significantly to Creekside's success in the pool.  She is a 4 time individual state qualifier, in the 50, 100, 200 freestyle & 100 backstroke.  As a Junior in 2017-2018, Anna was on the state championship winning 200 medley relay team which catapulted the Creekside Knights to win the overall FHSAA Team State Championship.  That 200 medley relay team currently holds the school record in that particular event. 
Winning the 200 medley relay at states last year is a special memory for Anna because that was something her team was working towards throughout the entire season. "It was just an awesome feeling being the final leg of the relay and outtouching Gainesville by 2 tenths. This upcoming season we hope to defend our state title and win overall for the second year in a row. We have a really strong group of girls and I am confident that Coach Tracy will lead us to another title," says Anna.
When she's not in the pool, Anna is involved in the National Social Studies Honor Society, International Thespian Society, National English Honors Society, Psychology Club, Junior Ladies (Senior Women this year), and Best Buddies. Anna does not plan to swim in college so she hopes this season will be her most memorable and go out with a bang!  Upon graduation from Creekside, she hopes to attend a high achieving, four year university and study psychology or social work.